---
Golfweek's Best Courses You Can Play - Arkansas
Arkansas' Top Courses You Can Play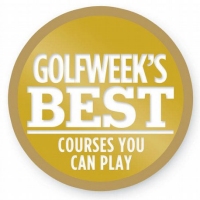 Arkansas' Top Courses You Can Play as rated by GolfWeek.com.

1.) Big Creek GC, Mountain Home (m)

2.) Mountain Ranch CC, Fairfield Bay (m)

3.) Thunder Bayou GL, Blytheville (m)

4.) Hot Springs CC (Arlington), Hot Springs (c)

5.) Stonebridge Meadow GC, Fayetteville (m)*

(m) - modern course; (c) - classic course; * - new to list


View complete list of all states at Golfweek.com.

News Source: Golf Week
Posted March 19, 2011 || Viewed 6,475 times
Share Comment